IMC RBNQA Assessment Process
It is a matter of great satisfaction that the IMC RBNQ Award process has delivered multiple benefits to Indian industry. The sharing of best practices by winners, the Examiners, who develop into a pool of quality experts, the organizations, which field these Examiners enabling self-assessment, and, last but not least, the Feedback Report to an applicant organization. A benefit from this process. In fact, every applicant has expressed that the very process of writing the application has been a learning experience. It has given them great insight into the working of their own organization, the strengths and the weaknesses.
The application is upto 75 page report on the organization responding to the various criteria of the IMC RBNQA model of Performance Excellence. The information provided in the application is so comprehensive that quite often the document is also used as an induction manual for new entrants. All applicants receive feedback reports commenting on their Strengths and Opportunities for improvement.
The IMC RBNQA has established six eligibility categories for the Award - Manufacturing, Service, Small Business, Overseas Organisation, Education and Health Care. Any for-profit/not-for--profit business/institutions located in India may apply for the Award. Eligibility for the Award is intended to be as open as possible to all Indian organizations. The overseas operation of Indian business group are also eligible to apply for the Award.
Structured and Transparent Assessment System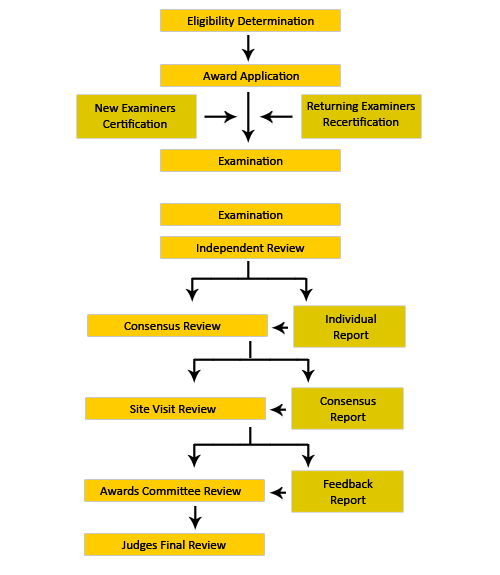 The Award process is a highly structured and transparent system involving individual assessment, consensus meetings and site visits. There are 4 stages in which the entire assessment process showcases a great level of open communication between applicant organization and IMC RBNQA Trust.
Profiles of Examiners approved by applicant to avoid conflict of interest.
Applicant organization invited for a 1 hr presentation during consensus meeting – a great opportunity to list out key factors and operating challenges. Also address queries of members of the Examining team
Site visit issues sent to applicant organization well in advance so that they are prepared for the final stage of assessment.
On receipt of Feedback report applicant organization can request examiners to explain the areas for improvement mentioned in the report.