IMC Juran Quality Medal
Genesis
In 1996, Dr. J.M. Juran gave Mr.Suresh Lulla, Chairman, IMC Quality Improvement & Technology Committee permission to use his name for a Juran Medal, awarded to a role model statesman for quality in India. His key condition: his name could only be associated with a non-profit organization. Thus was born the IMC Juran Quality Medal.
The selection process is managed by the IMC Ramkrishna Bajaj National Quality Award Trust and the award is named, IMC Juran Quality Medal. This recognition has become a benchmark for quality leaders in India.
Dear Mr Lulla:
…(the) proposal to establish a quality award in India is most timely. Such awards, in Japan, the United States, and elsewhere have contributed significantly to improving quality in their respective countries.
If such an award were created in India, I would indeed be honoured should it be named the Juran Quality Medal. By this letter, I authorize the use of my name for this purpose."
J M Juran

Chairman Emeritus
Juran Institute, Inc.
14 January 1997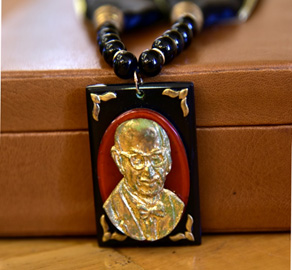 About Dr J M Juran
Dr. J. M. Juran's major contribution to society has been in the field of quality management. Dr.Juran has been called the "father" of quality. Perhaps most importantly, he is recognized as the person who added the managerial dimension to quality—broadening it from its statistical origins. So important are his contributions to quality that he is written about in many publications, such as, the Harvard Business Review, Business Week, the Financial Times, and many quality related journals.
In 1954, the Union of Japanese Scientists and Engineers invited the celebrated author to Japan to deliver a series of lectures. These talks about managing for quality were delivered soon after another American, Prof W Edwards Deming, delivered his lectures on statistical quality methods. Taken together the visits represent the opening chapter of a story that every business manager in every country in the world knows by heart ~ Japan's remarkable ascent from its pre-war position as a producer of poor quality manufactured goods for export, to its current reputation as a world paragon of manufacturing quality. Nearly thirty years after his first visit, Emperor Hirohito awarded Dr Juran Japan's highest award that can be given to a non-Japanese, the Order of the Sacred Treasure. It was bestowed in recognition of his contribution to "the development of quality control in Japan and the facilitation of US and Japanese friendship".
In 1986, Dr Juran expanded his analysis of the role managers must play in the quality process with publication of The Juran Trilogy. Also, in that year, he helped with the creation of the Malcolm Baldrige National Quality Award, testifying before Congress and serving on the Board of Overseas. As a result of the power and clarity of his thinking and the scope of his influence, business leaders, legions of managers, and his fellow theorists worldwide recognize.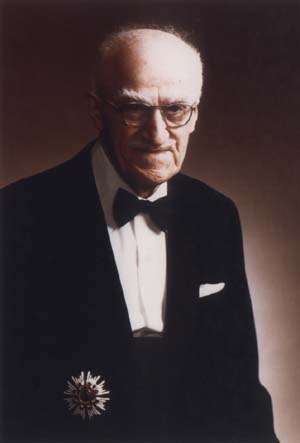 Dr Juran as one of "the vital few" ~ a seminal figure in the development of management theory. Dr Juran focusessed his attention on a new mission: repaying the debt he feels he owes the world for providing him great opportunity and exceptional success. He established The Juran Foundation to explore the "impact of quality on society", and make his contributions as well as those of others available in the field, to serve society in a positive way. "My job of contributing to the welfare of my fellow man", wrote Dr Juran, "is the unfinished business."
Dr Juran had mastered the art of demystifying the subject of Managing for Quality. His courseware on the subject will remain a benchmark.